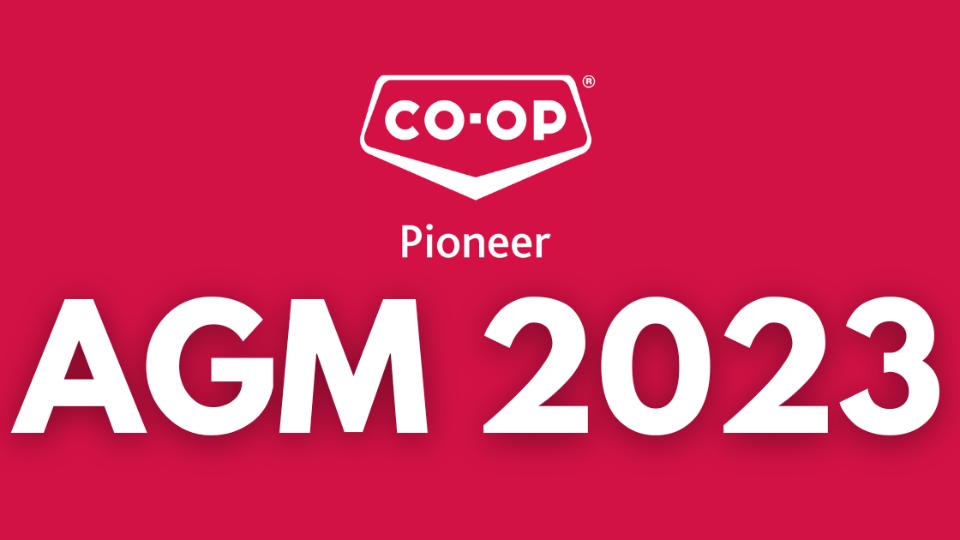 AGM 2023 HIGHLIGHTS
April 20, 2023
Record Sales Exceeding One Million Per Day
The Pioneer Co-op Annual General Meeting was held on April 11, 2023. Pioneer Co-op members were informed of another record-breaking year and a major milestone that was achieved for the first time in the company's 86 year history. CEO Larry Kozun states, "We are very pleased with the support we get from our membership. Our diverse portfolio enabled us to withstand the external headwinds in 2022 and have a strong financial year. Our earnings are made in Southwest Saskatchewan, and they stay here. We generate sustainable value; market returns and long-term profitability for Pioneer Coop members."
Karla Clifton, Pioneer Co-op Controller has reported that the Pioneer Co-op Board of Directors approved a 2022 return to its members of $14 million in patronage allocation, which was a result of over $377 million in sales, a record year for Pioneer Coop! For the first time ever, Pioneer Coop is supplying goods and services to our members of over 1 million dollars per day. Board President Uli Cartman announced the percentages for the patronage allocation will be Food (3%), Hardware/Lumber/Plumbing (1%), Pharmacy (5%), Agro (5%), Fertilizer (1%), Service Station (5%), Farm Fuel (5.5%), Wine/Spirits (2%). Cartman also reported that Pioneer Co-op put a significant amount of money back into the community through our Member Relations Committee, which totaled just under $140,000 to various groups and organizations across Southwest Saskatchewan.
2022 was also a year for several major business improvements across Pioneer Co-op, which included the following in Swift Current: Wheatland Mall service station renovation, new southside service station pumps, the Springs Drive service station/c-store/car wash/liquor store opening, new petroleum delivery truck and pup, and new fertilizer spreader and trailer. We also saw the building of the new crop protection shed in Cabri, as well as new service station pumps in Shaunavon.
"I want to thank our Senior Leadership Team, Division Managers, Team Leaders, and Team Members. This team works tirelessly to support Pioneer Coop. They are fully committed to ensure Pioneer Coop is not only meeting the challenges of today but leading Pioneer Coop to a stronger and more sustainable tomorrow. We are proud of this team of what we will accomplish together going forward", said Kozun.

For further information, please contact: Larry Kozun, CEO, Pioneer Co-op
(306) 778-8809 or larry.kozun@pioneercoop.ca